Insub Meta Orchestra
Choices & Melodies
A. Two choices 16'12
B. Autonomous melodies 16'26
Alexis Degrenier (hurdy-gurdy) – Anna-Kaisa Meklin (viola da gamba) – Angelika Sheridan (flutes) – Antoine Läng (voice) – Anouck Genthon (violin) – Bertrand Gauguet (saxophone) – Brice Catherin (cello) – Bruno Crochet (laptop) – Christophe Berthet (saxophone) – Cyril Bondi (conduction, harmonium) – d'incise (laptop, harmonium) – Daniel Tyrrell (acoustic guitar) – Dorothea Schürch (voice) – Eric Ruffing (analog synthesizer) – Gerald Perera (electric doublebass) – Hans Koch (clarinet) – Heike Fiedler (voice) – Ivan Verda (electric guitar) – Jamasp Jhabvala (violin) – Luc Müller (floortom, melodica) – Maxime Hänsenberger (percussion, melodica) – Raphaël Ortis (laptop) – Regula Gerber (doublebass) – Rodolphe Loubatière (snare drum, melodica) – Sébastien Branche (saxophone) – Sandra Weiss (bassoon) – Steve Buchanan (saxophone) – Thierry Simonot (laptop) – Violeta Motta (flutes) – Vinz Vonlanthen (electric guitar) – Wanda Obertova (voice) – Yann Leguay (electronic)
Direction and compositions by Cyril Bondi and d'incise.
Price: LP 14€

LP, CH Shipping, 20€
LP, EU Shipping, 22€
LP, Rest of the world Shipping, 24€
Flac only 7€
(A Flac link comes with the LP orders)
Also available at Bandcamp.
Distributed by Metamkine.
« Choices & Melodies » regroup two pieces, composed by Cyril Bondi and d'incise and echoing in a different aspects the « 13 & 27 » cd recently released by Another Timbre, as both were recorded at the same time in the summer 2016.
With « Two choices » the Insub Meta Orchestra exposes its richness of sonic production and variety of sources, acoustic and electronic, with simple instruction of producing two noises per person and the possibility of a change every five seconds. From this rigid structure emerges in fact an endless, subtle and dynamic soundscape.
One the other hand, and LP side, « Autonomous melodies » is a kind of alien piece in the orchestra's esthetic as it rely on a loud volume, and a free melody of three and four note. But here again it's the global result produce by the amount of musician that is made audible, it become an hybrid form, a sort of agited drone with a unique new timbre.
Both propositions here are timeless, and sometime dizzyning, they immediately surround the hears with a steady momentum, an own dimension where the music reveal itself in the details and micro-changes in the apparent constance.
INSUB.rec.LP02
April 2018.
Recorded in july 2016, at Studio Ernest Ansermet, Geneva, by Jean Guillaume Teheux.
Mixed by d'incise. LP mastering by Adi Flück. Artwork by d'incise.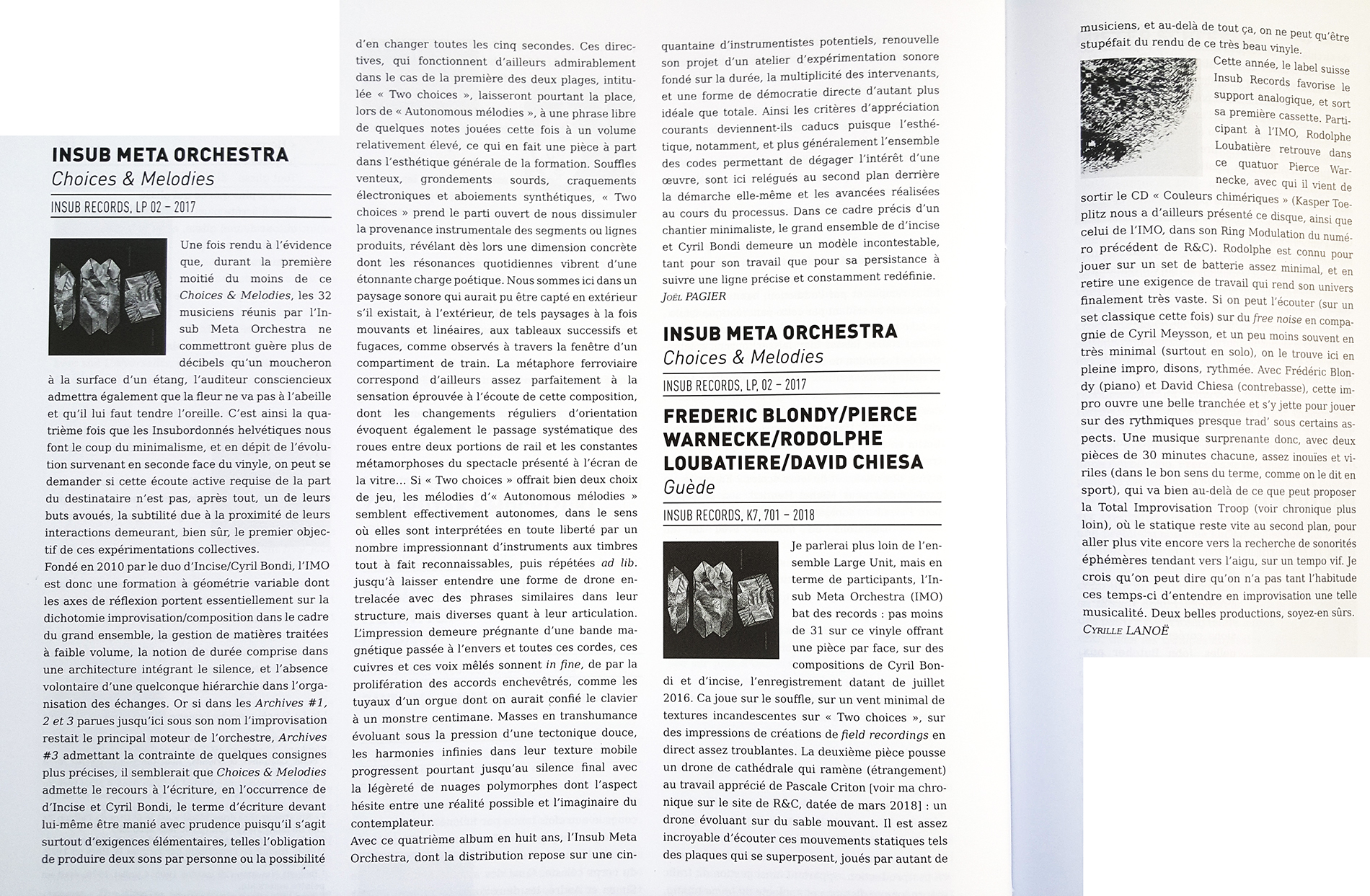 Joël Pagier + Cyrille Lanoë / Revue & Corrigée
Right at the end of last year I wrote about a CD of two pieces by the Insub Meta Orchestra; a fine disc that showed what can be done when a simple but smart rule is applied to a large group of musicians to interpret simultaneously. The same group has now released an LP/download of two more pieces, recorded around the same time. Two choices: each player shall make either of two sounds and may change every five seconds. Autonomous melodies: each player may play a free melody, of just three or four notes.
These two open compositions, again by Cyril Bondi & d'incise, show what can be achieved when creativity is constrained in a way that may be considered extreme. Of the Another Timbre disc, I observed that it "reveals more of the musicians; not of their 'personalities' but of their understanding of how to give music life." This LP continues the theme but explores it in ways not heard on the previous album. If the listener were to compare the two, they would notice striking differences appear straight away. Two choices works with unpitched sounds, forming a thread of complex sound that constantly changes timbre without a change in character. In fact, the exact nature of the sound remains elusive throughout. With some 32 musicians all making sound at the same time, with electronics, acoustic instruments and voice, no single timbre will ever come into focus. They are all presumably playing softly. Any change of an individual musician may only be perceptible as part of a group, but the exact combination of sounds that change cannot be known. The overall perception of the sound will be affected by how the individual sounds interact with each other.
On the flip side, Autonomous melodies takes a different direction; it's loud and lurches through a repeating melody that can still never be quite pinned down. The sleeve notes even refer to it as "a kind of alien piece in the orchestra's esthetic". The pitch of each note becomes a complex chord that is never resolved. Obvious elements frequently reappear, but there are so many of them that they never settle into a context. It all ends up sounding like a single, protean voice that echoes and reverberates through a melody that remains simulataneously distinct yet undefinable.
It's a powerful demonstration of indeterminacy applied to large groups. In both pieces, each musician's interpretation, taken separately, would be noticeably different in content but obviously the same in structure. Taken simultaneously, a strange reversal happens: the content is unified but the structure becomes unknowable, other than through explanation.
Ben Harper / Boring like a drill
This is surely an orchestra, with twenty-five musicians playing the two sidelong compositions by Cyril
Bondi and D'incise and performed by all these people and all these instruments. Too many to list them
all, so I list none. Quite a number of saxophone players, but also laptops, analogue synths, snare drum,
bassoon, flutes, electric guitar, violin voice and so on. On each side there is a single piece and they are
quite different. For the A-side it is 'Two Choices', which has the "simple instruction of producing two
noises per person and the possibility of a change every five seconds". So that should be about fifty
different sounds in always different patterns playing together, and perhaps a recipe for chaos, but
that doesn't happen. On the contrary, this is a beautiful piece that upon first hearing sounded rather
soft, but when I turned up the volume a bit a whole world of sound opened up. Almost like a bunch of
sea sounds/tape hiss, but with lots of detailed variations in the entire rumble they produce. It is a
very mysterious sounding piece, in which one has a hard time recognizing any of the instruments, I
would think, but it is a thoroughly intense piece of music that I liked a lot.
Instruments on 'Autonomous Melodies', on the other side, are easier recognized, I should think.
Not per se as individual instruments, but the Orchestra's many strings and wind instruments seems
to prevail here. It is, I am told, one of the louder pieces they have played so far and it's all about volume
and "a free melody of three and four note". Here too I have no idea how a diverse group interprets that,
but they play a powerful almost acoustic drone music here, with short movements, repeating on and on
and it gives the piece a most interesting cadence, going up and down in perfect rhythm, almost like
everybody is playing one bar, with either three or four notes, on and on. This piece is a total contrast
with 'Two Choices' when it comes to approach and execution, but in terms of beauty and intensity, it
is very much the same thing: excellent stuff. Where and when can I see the Orchestra perform?
FdW / Vital Weekly
It's impressive to keep a large ensemble with 50 permanent members going for eight years and running. It is particularly impressive when that ensemble focusses on the collective intersection of composition, improvisation and electro-acoustic practice. Founded by Swiss musicians Cyril Bondi and d'incise on the ideas the two describe as "experimentation, of immoderation, of exploring and pushing the limits," somehow this group of international collaborators has not only managed to keep this project a going concern, they have managed to get together on a regular basis to perform and record. Choices & Melodies is their fifth release, recorded at the same session as their Another Timbre CD from last year (reviewed here by Justin Cober-Lake) and like that one, this LP/digital download is comprised of two pieces credited as "direction and compositions by Cyril Bondi and d'incise." This iteration of the group is 32-strong, with eight woodwinds, five string players, three guitarists, six utilizing electronics, laptops, and synths, three percussionists, four vocalists, along with hurdy gurdy, viola da gamba and harmonium, forming a rich timbral depth.
First up is "two choices" using the simple instructions of producing two noises per person and the possibility of a change every five seconds. What transpires over the course of the 16-and-a-half-minute piece is a beguiling, dynamic mix of subtly shifting hiss, abrasions, quavers, crackles and low-end rumbles. Eschewing any sense of tonality, the immersive layers of frictive textures engulf the listener, with constantly evolving fields of subtle nuanced vacillations and densities. One gets the sense of listening in the midst of a giant engine or the groaning hull of a ship and the recording does a great job of capturing the spatial distribution of sounds across the ensemble. The second piece, "autonomous melodies," takes a quite different tack, utilizing kernels of three or four note free melodies which are distributed across the orchestra. Over the course of 16 minutes, it relies on a relatively loud volume to let the various threads accrue in to mercurially morphing chords and drones. Here, the music benefits from the intrinsic underpinnings of woodwinds, strings, electronics, percussion and elusive scrims of vocalizations which commingle and fragment into changeable pulses and currents. In both pieces, the collective, considered intensity of the full ensemble comes through with gripping results.
Michael Rosenstein / Dusted Magazine
Recorded in 2016, this album is formidable. The musicians number 32. The instrumentation ranges from reeds, strings (including hurdy-gurdy), winds, voice, and percussion, to laptops, melodicas, laptops, and electronics. The composers and conductors are d'incise and Bondi, who likewise perform in the orchestra.
The first composition, "Choices," relies on musicians playing two notes each for five seconds in overlapping configurations. It seems many instruments are played non-idiomatically and it is often difficult to distinguish which instruments are playing at a given time. This, however, does not create a messy mass of noise, but a largely improvised, though structured wall of patient, contemplative, almost ambient noise. At one moment one hears bubbling layered on hissing. At another, churning on boiling on droning. And so on, in seemingly endless combinations. Despite its quietude, the piece conveys a large, looming presence.
The second composition, "Melodies," is louder and more active than the first. It nevertheless carries a similar unsettling tension. Short melodies layer on top of each other. Although the instruments are more discernible (yet still deeply entangled with each other), none steps to the fore. The sound seems to engulf the listener from all sides. In a sense, the effect can be compared to the surface of the ocean. At first glance, it is monotonous. Upon closer scrutiny, however, it is a richly textured and colorful collection of undulating ripples. The music here is similarly subtle, but variegated. Although I have not yet heard the ensemble's recent release on Another Timbre, I have listened to its earlier recordings (FJB review of their first release available here). This one is its most fully realized effort yet.
Nick Ostrum / The Free Jazz Collective
Switzerland's Insub Meta Orchestra (IMO) opted to release their fourth album, 13 and 27, on the UK-based Another Timbre label instead of the INSUB label that had issued their first three recordings. Now, with their fifth, Choices and Melodies, they have reverted to INSUB. The music on 13 and 27 consisted of two compositions by d'incise and Cyril Bondi, the driving forces behind IMO and INSUB; those two pieces were recorded at Studio Ernest Ansermet, in Geneva, in July 2016. The music on Choices and Melodies also consists of two compositions by d'incise and Bondi, recorded at Studio Ernest Ansermet, in Geneva, in July 2016… and exactly the same thirty-two musicians played on both albums. In nearly every respect, the two albums are companion-pieces, except the labels on which they were released, and the fact that Choices and Melodies is not issued on CD but on vinyl (with a download code enclosed); maybe that explains the shift back to INSUB.
Turning to the music itself, we find that, in different ways, the album's two tracks each display d'incise and Bondi's customary knack of making IMO sound far smaller than it actually is and, so, keeping it uncluttered. The first track, « Two Choices, » instructed players to produce two sounds per person, with the possibility of change every five seconds. Although that instruction may sound rigid, the resulting soundscape is both subtle and fluid; it features quite a few breathy, hissing, white-noise sounds that ebb and flow dynamically in a most pleasing manner. Although the track runs for just over sixteen minutes—maybe limited by the length of an LP side—there seems to be no practical or aesthetic reason why it should not last far longer.
In contrast to the relative tranquillity of « Two Choices, » the B-side track, « Autonomous Melodies, » manages to be atypical of IMO by being considerably louder; as with the A-side, though, it does still avoid clutter. IMO members perform short melodic fragments that overlap and combine together into a multi-layered, constantly-shifting ensemble sound. With close attention, individual instrumental strands can be separated from the overall piece, but that is comparable to following one particular strand of thread in a large, rich tapestry…and just as pointless.
Irrespective of details of label and format, the two tracks here are valuable additions to the repertoire of IMO and should further enhance the ensemble's already excellent reputation.
John Eyles / All about jazz
La svizzera Insub Meta Orchestra, nelle persone di Alexis Degrenier (ghironda) – Anna-Kaisa Meklin (viola da gamba) – Angelika Sheridan (flauti) – Antoine Läng (voce) – Anouck Genthon (violino) – Bertrand Gauguet (sassofono) – Brice Catherin (violoncello) – Bruno Crochet (laptop) – Christophe Berthet (sassofono) – Cyril Bondi (direzione, harmonium) – d'incise (laptop, harmonium) – Daniel Tyrrell (chitarra acustica) – Dorothea Schürch (voce) – Eric Ruffing (sintetizzatore alalogico) – Gerald Perera (contrabbasso elettrico) – Hans Koch (clarinetto) – Heike Fiedler (voce) – Ivan Verda (chitarra elettrica) – Jamasp Jhabvala (violino) – Luc Müller (floortom, melodica) – Maxime Hänsenberger (percussioni, melodica) – Raphaël Ortis (laptop) – Regula Gerber (contrabbasso) – Rodolphe Loubatière (rullante, melodica) – Sébastien Branche (sassofono) – Sandra Weiss (fagotto) – Steve Buchanan (sassofono) – Thierry Simonot (laptop) – Violeta Motta (flauti) – Vinz Vonlanthen (chitarra elettrica) – Wanda Obertova (voce) – Yann Leguay (electronic), esce con il suo secondo album di composizioni scritte da Cyril Bondi e da D'incise, suddiviso in due parti: la prima parte intitolata Two Choices in cui l'orchestra si cimenta nella produzione di rumore proveniente da varie fonti acustiche ed elettroniche, con la possibilità di variare la produzione di suono ogni 5 secondi. Ne esce un flusso continuo, alternato, di paesaggi sonori che mutano continuamente, come uno shaker acustico mosso da un'automa fuori di testa. La seconda parte, intitolata Autonomous melodies, in cui l'orchestra suona al massimo volume una scelta che va dalle tre alle quattro note fondamentali. Anche qui è il risultato complessivo che viene fuori, una sorta di unico drone con il timbro continuamente cangiante. La formazione con questo lavoro pone l'attenzione sulle minime variazioni sonore che assommate insieme e condivise nell'esecuzione formano il totale maggiore della somma delle parti. Un ascolto intenso, da fare al massimo volume che i vostri timpani possono tollerare. Astenersi duri d'orecchi.
Marco Paolucci / Kathodik