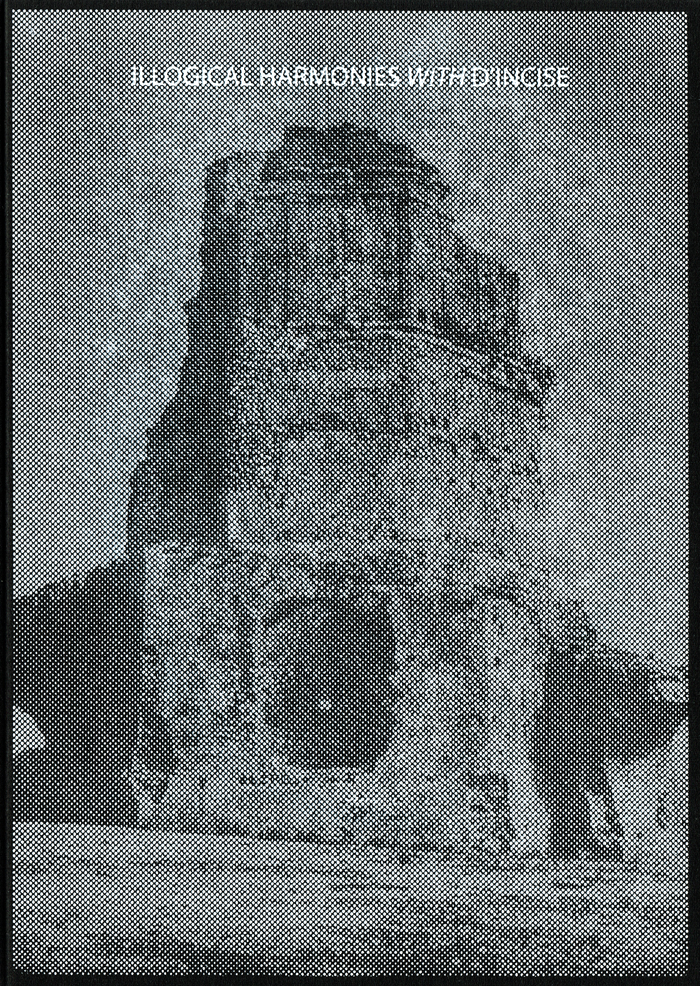 Illogical harmonies with d'incise
Johnny Chang, violin
Mike Majkowski, double bass
D'incise, recordings
Duration 41'09
Download (FLAC & MP3) 7€
Printed edition (ship. incl.) + Download 9€ (special offer)
The printed edition A3 insert contains a prose text by Rishin Singh.
Also available at Bandcamp (if you're in hurry).

The second of two Swiss concerts played by this trio, this recording falls under the genre of unedited concert recording, yet manages to go beyond that, becoming an object of its own. The confrontation of improvisation with concepts or limitations, not taken as a frame of work but really as raw material, allows the improvisation to lead the music on an unexpected path. Here we find slow glissandi, sequences of ostinati, Mike's brilliant tremolo techniques and highly resonant double bass sound, Johnny's precise string work and harmonic propositions, and d'incise's mimetic electronics and sudden bits of field recording treated as instrumental movements, altogether giving birth to a strange chamber music.
If you already have a download code, visite this page.
INSUB.records
N°6 / January 2016
Recorded live in Switzerland, the duo Illogical Harmonies (Johnny Chang on violin and Mike Majkowski on double bass) team up with electroacoustic wizard d'incise on various recorded sound sources. All three musicians have a background in the international improv scene, and many of the hallmarks of the quieter end of that genre are in evidence here: gradual, tentative transitions, simple motifs, polyphony and a sense of interplay, and rough, sometimes gently abrasive timbres. Structure is present in a subtle way, tipping the music back and forth between very quiet to moderately loud, all with beautiful precision and control.
Chang and Majkowski play with the difference in pitch between their two instruments, often leaving a big hole between the former's high-pitched tones and the deep, woody bass of the latter. This helps retain the classic improv impression of dialogue or toing and froing between two performers, showing how much current improv is still very much about playing (in the sense of playing an instrument) and the exchange of gestures as it is about sounds (wasn't it an improviser who eschewed the noun 'music' in favour of the verb 'musicking'?). D'incise's played back recordings tend to fill in this void between low bass and high violin, without dampening the sense of interplay too much.
With the calibre of the musicians involved being as high as it is, however, this 40-minute set ends up being full of both lovely playing and great sounds — it's not a matter of one or the other. The chromatic slides up and down at various points are a particular highlight, as are the gentle breezes of noise brought about by d'incise. Sometimes I'm left wanting just a little more to lift things out of the ordinary, but more often than not it's enough just to sit back and enjoy some very good music.
Nathan Thomas / Fluid Radio
For several reasons this download-only release makes an excellent companion piece to Volume (Another Timbre, 2016) by Illogical Harmonies. Firstly, the Illogical Harmonies duo of violinist Johnny Chang and double bassist Mike Majkowski is here joined by INSUB curator D'Incise who acts as a wild card, adding electronics and field recordings to the impressive contributions of the two string players, enhancing the soundscape and giving it another dimension; together, the three sound like a mutated chamber group.
Secondly, this album's one track was recorded live in concert, in February 2015, in Geneva, and is presented here unedited, whereas Volume consists of five tracks composed and studio-recorded between spring and autumn of that year. The concert heard here was actually the second of two Swiss concerts played by the trio, so the three had had time to acclimatise to one another, meaning they sound relaxed and comfortable together The forty-one minutes of music was largely improvised and, thanks to D'Incise's contributions, it ventures into territory that is at times very different to that explored by the strings alone. While there are occasional structured interludes, such as a repeated phrase from Chang at around the nine- minute mark, these never strait-jacket the players, all of whom seem to relish the freedom afforded them. The end results contrast markedly with the prolonged notes and drones produced by Illogical Harmonies alone on Volume.
This trio is best regarded as a group that is distinct and separate from the Illogical Harmonies duo. Both are very fine and we must hope to hear more from each of them.
John Eyles / All about jazz