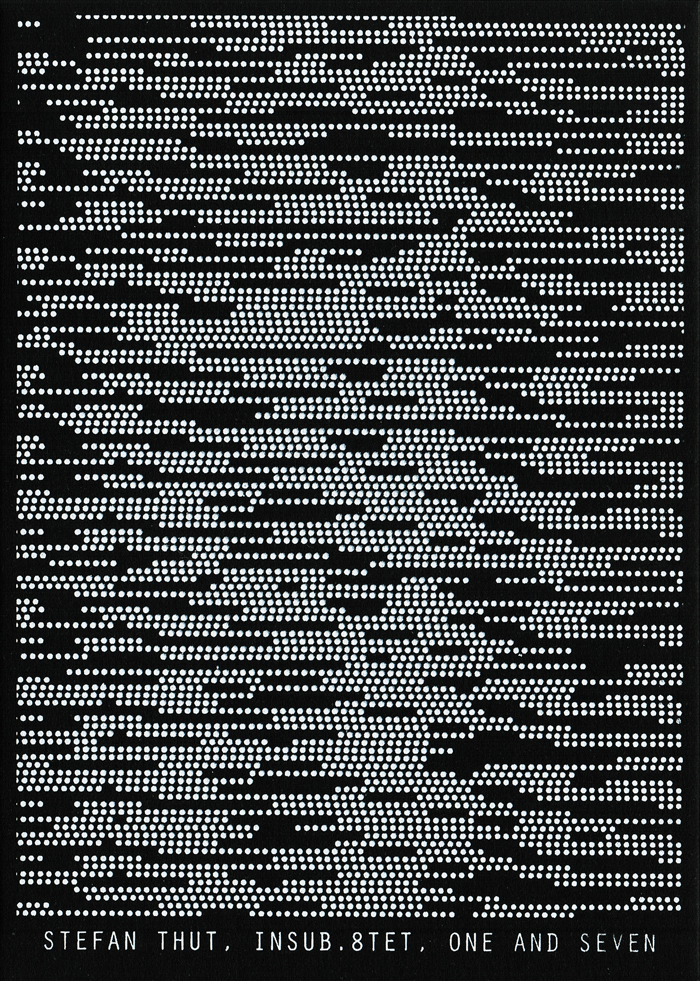 Stefan Thut – Insub.8tet
One and seven
Stefan Thut, composition, cello
Antoine Läng, voice, volumes
Alexis Degrenier, hurdy-gurdy
Patricia Bosshard, violin
Cyril Bondi, harmonium
D'incise, bowed tuned metal pieces
Raphael Ortis, electric bass
Rodolphe Loubatière, snare drum
Duration 54'32
Download (FLAC & MP3) 7€
Printed edition (ship. incl.) + Download 9€ (special offer)
The printed edition A3 insert contains a discussion between Stefan Thut, Antoine Läng and d'incise.
Also available at Bandcamp (if you're in hurry).

Thought for the specific nature of the INSUB.Xtet and its rather unusual combination of instruments, this piece composed by Stefan Thut works on one hand on logical mouvements, and on the other on subjective derivation of the nature of the sound, short or long sequences get layered and echo each other. The presence of one becoming the silence of the others. Tones predominate but sometime shift to grainer sounds and soft noises in a constantly changing level of densities.
If you already have a download code, visite this page.
INSUB.records
N°5 / January 2016
The title of this piece « One and Seven » refers to its use of one voice and seven instruments, which here are cello (played by Thut himself), hurdy-gurdy, violin, harmonium, bowed metal pieces, electric bass and snare drum. Alongside Thut, the ensemble includes INSUB label curators Cyril Bondi and d'incise. The one fifty-five-minute track opens to the unaccompanied voice of Antoine Läng who sings a single sustained tone that he then repeats, establishing a pattern that the instruments soon follow. Punctuated by occasional brief periods of silence—in a fashion recognisably characteristic of Wandelweiser—the instruments play sustained tones that slowly wax and wane, sometimes several overlapping one another, often not.
Although the seven instruments are not an obvious combination in a septet, they are never called upon to play together as an ensemble and, hence, this instrumentation works very well in context. Together, the instruments provide a broad enough range of textures and timbres to create a varied, shifting soundscape. There is a pleasing logic to the way that the instruments enter and then fade away, ensuring the music never becomes overcrowded or cluttered, and so every sound can be heard clearly without being masked by others. Altogether, « One and Seven » makes a highly satisfying experience that stands up well to repeated listening.
John Eyles / All about jazz