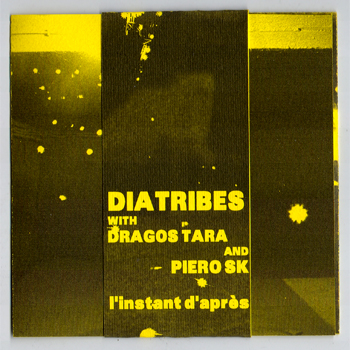 DIATRIBES with DRAGOS TARA and PIERO SK l'instant d'après
Cyril Bondi: drums, percussions
d'incise: laptop, objects, live treatments
Dragos Tara: doublebass (on 1.3.5.7)
Piero SK: soprano saxophone (on 2.4.6)
1. entorse aux oublis mp3
2. le givre mp3
3. le mauvaise oeil mp3
4. la démocratie reste un système bourgeois mp3
5. montée aux enfers mp3
6. migrations mp3
7. les gosses mp3
Download the complete album in .rar (58 min 39 / VBR mp3+cover / 114 Mo, it's the easier way)
1.3.5.7 recorded at l'Oblò, Lausanne, ch, 12.03.08, 2.4.6 recorded at le Shark, Geneva, ch, 03.04.08, mastering by Gerbem, thanks to the Zoo/L'Usine for the mics.
DIATRIBES:
Diatribes, a strongly libertarian ensemeble, began its existence in a Geneva basement in Winter 2004. Their idea was to mix three distinct types of sound (electronic, wind and percussion), in order to develop a malleable musical mass. The saxophone and drums merge into each other in a primary dance, where construction and deconstruction coexist, and envy and disgust unite. There are no limits to their sound, where rhythms, melodies and noise meet sporadically, merging into each other until they are almost forgotten. Free jazz in its approach, acoustic and electronic in its execution, the trio is capable of exploring the minute like the intense. Their relationship with the public is intimate and profound. Dreams and fears become noise and silence…
Initialy a trio with Gaël Riondel on saxophone, diatribes became a polymorphous fromation, extending its spectrum to other musicians such as the guitarist Christian Graf, the electroacoustician Nicolas Sordet, the pianists Jacques Demierre and Johann Bourquenez,
DRAGOS TARA:
Dragos Tara was born in 1976 in Bucarest, but has lived in Switzerland since the age of 5. He studied double bass at the conseratory in Montreux and Lausanne, From to 2002 to 2007, he studied composition and electroacoustics at the conservatory in Geneva.
After discovering many different musics (rock, jazz, classical, balkan music) he he is now active in many groups of improvised music : Hibiki (Laurent Bruttin, cl./CH, Kim Myhr., gt/ Norw.), a duo with Sébastien Roux (FR/electronic.), l'Ensemble Silence (live music for silent movies), KikU*2 4tet.
Dragos has realized different projects: Performance for musiciens, dancers et electronics in the former jails of Vevey (2005) ; Jeu : duel musical pour double-quartet (2004), solo concerts and a doublebass quartet.
He has also written music for various ensembles: Ensemble Vortex, compagnie CH.AU, íllorkestra, Bolouris 5tet, Ostermundigen symphonic Orchestra .
PIERO SK:
Piero SK is a personage born approximately 10 years ago, on a table of writing. He is an autodidact and work in theatre, writing and music. He collaborated in particular with Monsieur Jean, Noël Akchoté, Saadet Türköz, Jacques Demierre, Jacques Roman, Wilbert de Joode, Obaké, AbSTRAL compost, la Gale, Vernacular, Jeudi, Rue du Nord. Its biography is variable, its room is populated by shadows.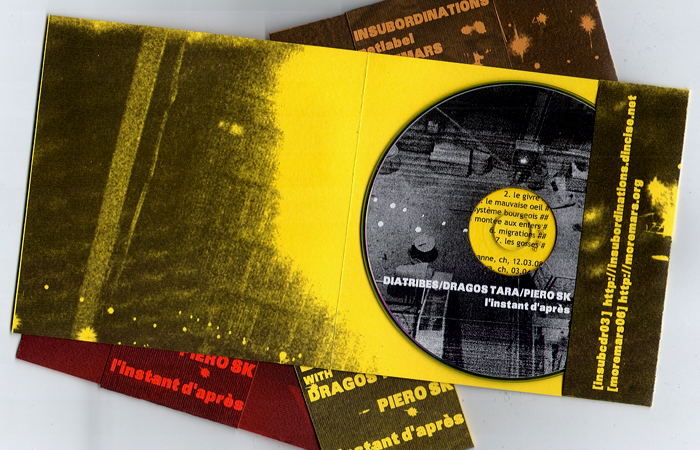 This recordings are under Creative Commons license.
Copy, share, burn, P2P, offer, thank you for that, but please keep the whole record complete with all its elements.