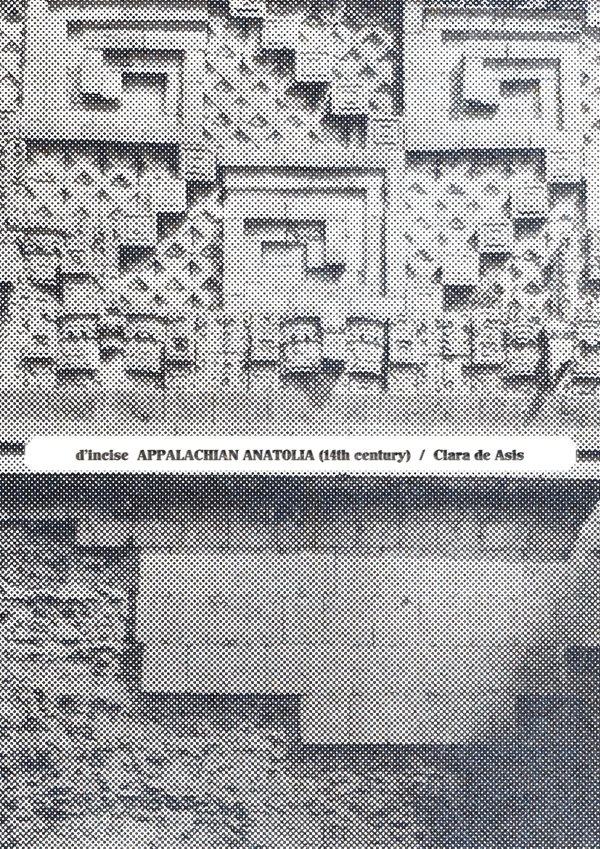 d'incise
« Appalachian Anatolia (14th century) »
Clara de Asis
Clara de Asis: electric guitar
41min.
Download in MP3
Download in FLAC 24bit
Perhaps more than a strict composition this piece is a conjunction of a technical frame and a conceptual input, and the own vision of the player.
It works on tuning and detuning, a different set-up of the strings, on harmonics and pitch frictions and on the influences of music from very various origins and the transposition of gestures inside a reduced field of possibities. It might devellop as a form of raga, of perpetual variations of determined material, but it remains a guitare alone, it's strings resonnating, nothing else.
d'incise, born in 1983, based in Geneva, CH, works in the field of experimental music, choosing specific approaches – electroacoustic, scores, improvisation – regarding thier intrinsic potentials. He's at the initiative of many groups and projects; Diatribes, Insub.label, Insub Meta Orchestra, La Tène, etc.
Clara de Asís is an electroacoustic music composer and experimental guitarist, born in 1988 in Spain and based in France, where she's fully involved in the experimental and contemporary music scene. Her musical practice is held away from any formal academicism, aiming to transcend conventional instrumental approaches. She works mainly on prepared electric guitar, focuses on exploring the specificities of her instrument, and develops them both in live situations and throughout electroacoustic compositional processes within sounds from several sources. She often builds her music from minimalist frameworks, which allows her to explore a certain idea or parameter to reach its full development.
Her works have been promoted on many international platforms and scenes and she collaborates regularly with sound artists and contemporary musicians (among others: Noe¨l Akchote´, Christophe Modica, Laura Vazquez, Jean-Marc Montera, D'Incise, Golem Mécanique, Emmanuel Lalande, Nicolas Dick).
Recorded by d'incise at Ausland, Berlin, may 8th, 2016.
With the support of the Fondation Henneberger-Mercier and Fondation Nicati De-Luze.
A version of the same piece played by Cristian Alvear is available on cd at Another Timbre label.
[insub45] / november 2016
This recordings are under Creative Commons license. Copy, share, burn, P2P, offer, thank you for that, but please keep the whole record complete with all its elements.