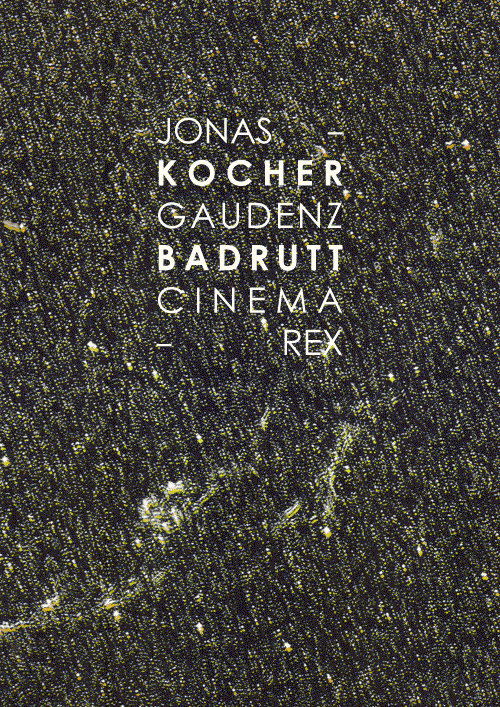 JONAS KOCHER – GAUDENZ BADRUTT
Cinema Rex
Jonas Kocher: accordion
Gaudenz Badrutt: electronics
Download in MP3 (26m56 / 43Mo)
Download in FLAC 24bit (26m56 / 275Mo)
Having collaborated for many years now, Badrutt and Kocher play improvised music. Through this practice they explore the relation between the very electronic sounds of the accordion and the instrumental potential of the electronics.
There is no electronic processing of the accordion, more the opposite: the acoustic sounds tend to influence the machine, creating accidents and random behavior of the electronics.
Badrutt and Kocher also take care of the acoustic specificities of the spaces where they play, taking it as a fundamental element of the performance. Through this subtle tuning between the playing and the space, every sound performance becomes site specific.
The concert at Rex was the last of a small tour in the Balkan region. Hours of travelling around on bad roads with old albanian taxis and public buses, fastidious border crossings and concerts in very different venues: a quiet basement in Athens, an old industrial building in a no man's land area in Tirana, a very small bar in the middle of a fancy bars area in Skopje and the beautiful old cinema REX in Belgrade.
Our music evolved quite a lot during the tour, the context as well as all the people we met and the places we stayed, having definitely an influence on our playing. This recording aims to document our practice in a specific context at a specific time. No concept before playing, no edits or re-composing after. It is just what it is, improvised music.
Live set recorded in october 14th 2013 by Stefan Thut at Rex Kulturni Centar, Belgrade, during Swiss Music Days festival.
No edits. Mastering by Gaudenz Badrutt. Special thanks to Stefan and Bojan.
[insub42] / July 2014
A free net-release recording of an improvised concert with Kocher (accordion) and Badrutt (electronics). Kocher's been gliding more and more into Wandelweiserian ranges in my recent experiences of his work but here, with Badrutt, he modulates that tendency (welcome as it is) just a bit, injecting some amount of stridency and acidity into the often long-held tones. He's both mirrored (in a well-distorted manner) and commented upon by the electronics which are as likely to generate along lines indistinguishable from the accordion as to set up flurries of opposition. The accordion sounds electric and the electronics, acoustic as often as not. There's usually a fine irregularity at play here, not scattershot at all but also without the sense of being confined to a given approach or dynamic level; sometimes, as during a raucous section that begins around the 15-minute mark, there's some vexing discontinuity but even then it's rescued by a charge into the depths. Kocher shows an affinity for his instrument's nether regions here and elsewhere and, happily, doesn't mind letting the reedy textures seep through now and then. The pair's « social insects » in 2012 was less satisfying in this regard, so I'm happy to hear a more cohesive result this time around. Strong performance.
Brian Olewnick / Just Outside
This recordings are under Creative Commons license. Copy, share, burn, P2P, offer, thank you for that, but please keep the whole record complete with all its elements.