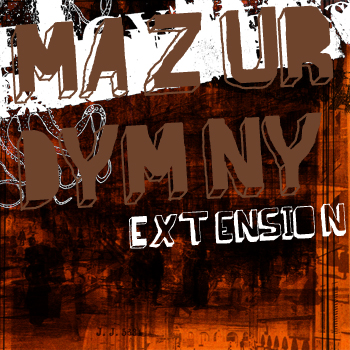 MAZUR & DYMNY Extension
Rafal Mazur: acoustic bass guitare
Michal Dymny: electric guitare
1. Extension mp3
Download the complete album in .rar (33 min 10 / VBRmp3+cover / 56Mo)
Recorded 15th of May 2008, in concert, at CSW « Solvay » – Krakow, by Piotr Zyla.
Rafal Mazur, Graduate of State Secondary School of Music in Krakow, in the cello class of Krzysztof Okon. Fascinated with jazz and bass guitar, he studied privately with a KraKow bass player Marek Janicki. At present Rafal Mazur plays acoustic bass guitars custom built to his own specifications by guitar maker Jerzy Wysocki. He has developed an advanced and individual approach to his instrument—and to improvisation in general—in which sonority, extended technic and gesture combine effortlessly in performance. Mazur's uncompromising musical standards are matched by the sophistication of his wit and demeanor on- and offstage.
He has taken an important role in Kraków to support young artists and improvised art and has performed jazz and improvised music in clubs and festivals across Poland and in much of Europe (recently in China) . He is a founder of "Improvising Artists" – an informal association grouping musicians – improvisers, who promote and create improvised music. Rafal Mazur focuses on cooperation with Keir Neuringer, project "PROCESS_Laboratory of Intuition" and "Ensemble 56" Hunagrain-Polish contemporary jazz band. He is an organizer of "Meeting of Improvisers" – the annual international multidisciplinary modern event.He also studying philosophy at the Jagielonian University and practise Tai Ji.
Michal Dymny was born in Cracow in 1985. He was studying piano and percussion in Primary and Secondary State School of Music in Krakow, but his main musical activity is focused on electric guitar. As a guitarist he has developed an individual style full of sonority and preparations that come into being during improvisation. From 2005 he takes part in lots of events that are dedicated to free improvised music and contemporary art. At presence he is a member of "PROCESS_Laboratory of Intuition", which is a band/institution (founded by Rafal Mazur) concentrated practically and theoretically on aspects of collective free improvisation and intuitive music. He participates in projects organized by "Improvising Artists" group.
This recordings are under Creative Commons license.
Copy, share, burn, P2P, offer, thank you for that, but please keep the whole record complete with all its elements.