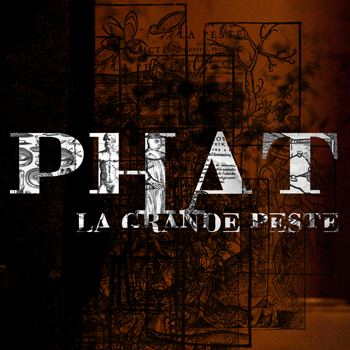 PHAT La Grande Peste
Fabien Duscombs: drums, percussions
Marc Perrenoud: bass & electric doublebass
Heddy Boubaker: alto & bass saxophones
1. Entre le tâton et la bière mp3
2. La grande peste de 1348 mp3
3. La fête des blattes mp3
4. The great purgatory of dead porn stars mp3
5. Eh ! mp3
6. Ah ! mp3
Download the complete album in .rar (35 min 14 / VBRmp3+cover / 64.5Mo)
1.2.4.5.6 recorded in Hameau des Joffres, 17-18.11.2007, 3 recorded live at TXUS, Toulouse, 18.01.2008, record and mastering by Heddy Boubaker
PHAT is an ENERGIC Free-Jazz/Free-Rock/Noise « power trio » founded in october 2006. It reinvents and re adapts the mixture of the styles with an extreme joy for the most curious and fondest ears of delicacies about « out-of-limits » sound experiments .
This recordings are under Creative Commons license.
Copy, share, burn, P2P, offer, thank you for that, but please keep the whole record complete with all its elements.