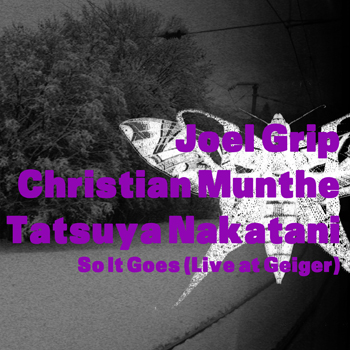 JOEL GRIP + CHRISTIAN MUNTHE + TATSUYA NAKATANI So It Goes (Live at Geiger)
Joel Grip: double bass, etc.
Christian Munthe: acoustic guitar
Tatsuya Nakatani: drums & percussion, etc.
1. Tralfamadorian tempus mp3
2. Poo-tii-viit ? mp3
Download the complete album in .rar (33 min 52 / 256Kbps mp3+cover / 44Mo)
Live recordings by Keith Talent at Club Geiger,  Brewhouse, Gothenburg, December 7, 2007.
The following three people meet this evening. They arrange familiar and not so familiar objects. Two of them sit down while one remain standing. They play, and go for a meal. So it goes:
Joel Grip: swedish bassplayer, festival organiser, label producer, etc. Moving about in the improvised / experimental / creative music field he tours worldwide and has worked with, a.o., Eve Risser, Yoshida Tatsuya, Joe McPhee, Mats Gustafsson, Sam Rivers and Michael Zerang.
Christian Munthe: swedish free improviser concentrating on the sonar possibilities offered by an acoustic guitar. Since the 1980's he has performed/recorded solo as well as with Günter Christmann, Anders Dahl, Mats Gustafsson, Paul Lovens, Phil Minton, Christine Sehnaoui, Roger Turner, a.o.
Tatsuya Nakatani: contemporary percussionist, originally from Osaka, Japan. He performs creative music around the world, and has created a totally unique sound which defies category or genre. He utilizes the drum set, bowed gongs, cymbals, singing bowls and metal objects.
This recordings are under Creative Commons license.
Copy, share, burn, P2P, offer, thank you for that, but please keep the whole record complete with all its elements.