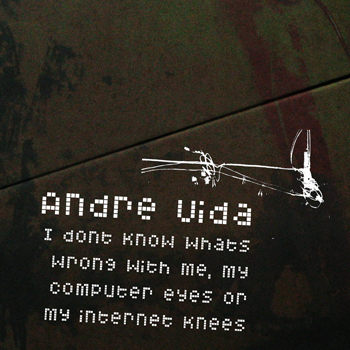 ANDRE VIDA I dont know whats wrong with me, my computer eyes or my internet knees
Andre Vida : tenor saxophone and poetics
1. I dont know whats wrong with me, my computer eyes or my internet knees mp3
2. BlackJack?!? I thought this was poker! mp3
3. Message Set, Waiting for a sarcastic response mp3
4. Break this sweater in with my smell.
Scrape the shoes from this black polished shell.
I feel totally new in my heart.
I feel it so calm.
How long will it take till the other side wins out? mp3
5. Billie Jean
or
D: Are those one of your pants with a huge hole in the crotch.
G: No, these are my pants with no button. mp3
6. Pancake Skillet mp3
7. Abblution, When You Need It mp3
8. Child Real Eyes mp3
9. A small bald man with a lisp
whips my wife every night in her dreams.
I can't say I'm jealous so I feed him every morning
we play poker while she's away and when she comes home
I hide him in her pillow mp3
Download the complete album in .rar (48 min 14 / 256Kbps mp3+cover / 94Mo)
Recorded during the huyswerk concert at 'tWerkhuys, Antwerp, on September 30th, 2007 by Giles Thomas.
« Solo saxophone improvisations and songs based on poems from handbook 8. I have been performing every Tuesday night for the past 2 years at a place called Wendel in Berlin. This has given me full license to explore the intersections between solo saxophone music and poetic lyrics, so I was very pleased to have the chance to come to Antwerp and bring these experiments to fruition in a new environment. Special thanks to Giles and Patries for making this possible. »
Arriving in NYC in 1995 at the age of 19, with male pattern baldness shaved in his head by his own hand, Andre Vida began terrorizing the Knitting Factory, The Cooler and subway platforms everywhere, with his unique brand of improvised saxophonic punkosity. In between performances with Anthony Braxton, The Tower Recordings, Susie Ibarra, Lil' JJ, Brandon Evans, Sonny Simmons, Tim Barnes, and Cecil Taylor, Vida began to notice that there was often a cab parked on the corner of Hudson and Canal with a coffin sticking out the back. One day, Vida decided to see what was inside. Was it the future of freejazz? The fate of instrumental improvisation to the exclusion of theatre? Was it a call for Vida to develop his singing voice? I wish I knew, for he seems to hold a kind of power over me and I believe it stems from what he learned there.
Eleven years later in Berlin, his highly regarded 'Every Tuesday night for the rest of your life' series at Wendel, has allowed him to hone his skills as tap dancer, saxophonist, blues singer, and monologuist with amazing guests from all reaches of the globe. Guests have included Ame Zek, Kevy Blechdom, Kim Hiorthoy, Clayton Thomas, Tony Buck, Jamie Lidell, Bill Youngman, Guido Hennebohl, Brendan Dougherty, the disgruntled mimes, and many more…
This recordings are under Creative Commons license.
Copy, share, burn, P2P, offer, thank you for that, but please keep the whole record complete with all its elements.