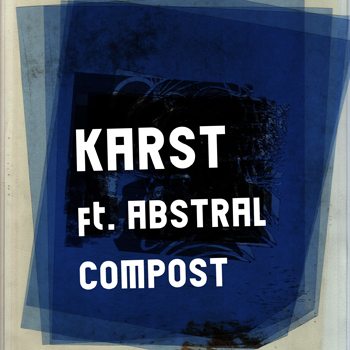 KARST ft ABSTRAL COMPOST
Cyril Bondi : drums, percussions, objects
d'incise : objects, anti-percussions, a little bit of laptop yet
Abstral Compost : voice, texts, loops
1. amnésie des âmes, ft. Abstral Compost mp3
2. l'intérieur des murs mp3
3. pyrite soufre or coeur, ft. Abstral Compost mp3
4. marée d'un mois sans lune mp3
5. le coincoin de la pièpièce, ft. Abstral Compost mp3
6. épidémie abandonnée mp3
7. madame, il pleut sur ma solitude, ft. Abstral Compost mp3
Download the complete album in .rar (49 min 10 / VBR mp3+cover / 96Mo)
Recorded in august and november 2007
KARST:
KARST is a free improvisation duo; intermingling objects and instruments, creating an architecture of percussions, squeaks, frictions, unreal impulses, instinctive mathematic sounds in constant reorganization.
KARST is the will of two musicians that have played together for a long time; finding themselves face-to-face, without barriers but also without dodging eachother, in a situation where every gesture, even negligible, is to be assumed in its entirety.
KARST is a landscape; carved by corrosion, with sharp, underground cavities where thousands of roads offer themselves to the adventurous listener.
ABSTRAL COMPOST:
blockdroppitchtalehugsandsigns_
homemademusicshinedivine
rhymenumbersplaintimesublime_
increasethesizeandriseaspine
a maybe so kind of weird rapper postpoet yet lyricist
AbSTRAL compost has no letterbox nor directions or waves
sometimes everywhere and nowhere at the same time
he hides and seeks the crooked pathways of angles and squares
charmed by a typewriter
he writes the hole of worlds crossing the shitty trends of civilian hands
beyond the langage of hippy sands
along the seas of lucky pants waiting for lights to turn off speach
to bleach the word and die in silence
his stomach leaks some words
he watches the people eat
a little hungry beside the wind
his prose is alive
full of noise and artefacts that replace sense by sound
because sound does make sense
his impulsive writing
like a synaptical mecanism that explores word associations and neurones and maybe brains
like a kind of automatism that mentally forgets the meaning of why and how
like a random meeting of letters and words
like a rubber band around time and space
like the feeling of already seen yet not heard
like the corners of a room that doesn't know how to stand
like everything else that looks like rocks that breathe fresh air and sleeveless tops
like the thin line between life and death
sometimes fragile
unstable
useless
but curious
so what
we all lean over the sun every morning when it rains
and sometimes the sky cries planes and fingernail lanes
and sometimes things do change
This recordings are under Creative Commons license.
Copy, share, burn, P2P, offer, thank you for that, but please keep the whole record complete with all its elements.