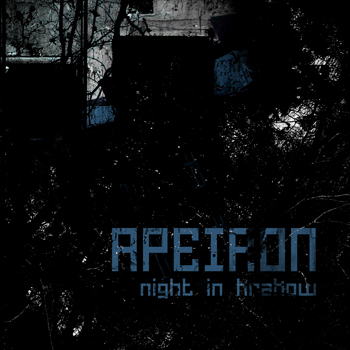 APEIRON night in krakow
Marzena Lis: grand piano
Rafal Mazur: acoustic bass guitar
1. night in krakow mp3
Download the complete album in .rar (31 min 19 / 320kbps mp3+cover / 73Mo)
Recorded in concert, Center of Contemporary Arts, Krakow, October 2006, by Rafal Drewniany (« Dzwiek to Sztuka/Sound is Art » Studio)
Apeiron is a duo of contemporary improvised music – grand piano and acoustic bass guitar – founded in Krakow by Marzena Lis and Rafal Mazur. They are working together since 2005 playing improvised music and realizing graphic scores. Apeiron is e self-reliant duo but members are really interested in cooperation with other artists. They worked with Gilad Roth – saxophone, Rafal Drewniany – electronics, Tomek Choloniewski – drums and with Misha Feigin (concert at "Meeting of Improvisers" – Krakow 2007) – guitar. Apeiron working in "trans-idiomatic" aesthetic, it means that on the ground every available kinds of aesthetic artists create new configurations and new shapes and figures of sounds.
This recordings are under Creative Commons license.
Copy, share, burn, P2P, offer, thank you for that, but please keep the whole record complete with all its elements.