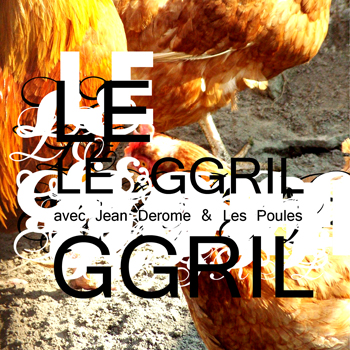 LE GGRIL avec Jean Derome & Les Poules
GGRIL et Jean Derome (1, 2 & 4):
Jean Derome: sax alto et direction
Sophie de Courval Poulin: sax alto
Étienne St-Pierre: clarinette
Robin Servant: accordéon
Brigitte Lacasse: accordéon
Catherine S Massicotte: violon
Isabelle Laurin: violon
Robert Bastien : guitares
Éric Normand: basse électrique
Brigitte Vincent: percussions
Le GGRIL et les Poules (3):
Joane Hétu: sax alto, voix
Sophie de Courval Poulin: sax alto
Mathieu Goselin: sax alto et trombone
Robin Servant: accordéon
Brigitte Lacasse: accordéon
Catherine S Massicotte: violon
Isabelle Laurin: violon
Robert Bastien: guitare électrique
Stéphane Perron: guitare acoustique
Éric Normand: basse électrique
Mathieu Rochette: percussions
Danielle Palardy Roger: percussions
Diane Labrosse: échantillonneur
1. Fire (Fred Frith) + Bébelle (Jean Derome) mp3
2. (sans titre) mp3
3. L'impatience du grand Héron (Danielle P. Roger) mp3
4. La p'tite barre mars (Jean Derome) mp3
Download the complete album in .rar (31 min 22 / 320kbps mp3+cover / 73Mo)
Le GGRIL:
Le GGRIL is the home big bande from Tour de Bras. It feature a dozen of Bas-Saint-Laurent musicians and worked with various guest directors.
Tour de Bras is a broadcast, creation and production structure in the actual musics domain. performative arts and new intrumental and sound pratices. Trhough its activities, it search to support cultural devellopement in the region, to sensitize the public to the actual art forms, to make the local creators participate in some innovating projets into meeting with provincial and international scene artits.
Jean Derome: One of the most active and eclectic musicians on the Canadian creative music scene, Jean Derome has managed to earn the recognition of a larger public, a rare feat in that field. Thanks to his large-scale musique actuelle projects, his compositions, his work as an improviser, his jazz groups and his music for the screen and the stage, Derome ranks as a major creative force, in Quebec and abroad. He is experienced and innovative on both saxophone and flute, and his unique writing style cannot be mistaken for anyone else's. Sensitive and powerful, his music often features a funny strike that makes its complex nature more inviting.
Ever since Nébu (one of Quebec's first avant-garde jazz groups) in the early '70s, Derome has been consistently renewing and diversifying his approach of composition. He impressed audience and critics first with the flute, then with the saxophone, as a lead character in the musique actuelle underground. He took part to the various artists' collectives looking for new ways to express themselves freely, without esthetic or social constraints, including the Ensemble de musique improvisée de Montréal. Later, in the early '80s, he co-founded Ambiances Magnétiques, a collective and record label that raised his profile at home and introduced his name to the outside world. Among his numerous projects, let us mention the duos Les Granules, Nous perçons les oreilles and Plinc! Plonc!, the dynamic group Jean Derome et les Dangereux Zhoms, and the large-scale projects Confitures de gagaku, Je me souviens – Hommage à Georges Perec and Canot-camping. Most of these projects are based on a unique form of synergy between composition, structured improvisation and genuine creative madness, all this articulated with unmatched playfulness. In 1992, Derome became the second artist to be presented with the Freddie Stone Award (bassist Lisle Ellis was the first).
Besides improvising on a regular basis with Ambiances Magnétiques' members and appearing in their projects, Derome has also shared the stage with several musicians of international stature, among others Fred Frith, Lars Hollmer, Louis Sclavis and Han Bennink. He performs regularly all over Canada, in the US and in Europe. He received a Prix Opus in 2001 for his exposure abroad. Lately, jazz circles have been praising his undisputable qualities as a jazzman, thanks to the Thelonious Monk tribute project Évidence, the Normand Guilbeault Ensemble (whose Mingus Erectus CD is devoted to Charles Mingus' music), and the much-lauded Derome Guilbeault Tanguay Trio. Although Jean Derome writes tirelessly for his own projects, he is much in demand in the fields of film, theatre and dance. A short list of this side of his work would have to include his numerous scores for the National Film Board of Canada (NFB), especially for films by John Walker, Jacques Leduc, Fernand Bélanger and animated films by Pierre Hébert, Michèle Cournoyer and Jean Detheux; his incidental music for Théâtre UBU, Théâtre de Quat'Sous and Théâtre du Nouveau Monde; not forgetting his work with several top choreographers, including Louise Bédard, Andrew de Lotbinière Harwood, Daniel Soulières and Ginette Laurin. Other music ensembles have commissioned works from him, including Tuyo, Bradyworks, the Hard Rubber Orchestra from Vancouver and Fanfare Pourpour. Incidentally, Derome is the musical director of the latter.
Over thirty years of music and 70 record credits later, Jean Derome still has sleeves bursting with tricks.
Les Poules:
Les Poules is a trio made up of Joane Hétu, Diane Labrosse, and Danielle P. Roger. Three instrumentalist-composer-improvisers who have been working together since 1980. Their collaboration is legendary, their musical explorations always avant-garde. They mix up synthetic and acoustic sounds, the crackling and humming of samplers, the churning and chafing of percussion, vocalization, and the mouth play and hissing of saxophones. The effect of these mixtures and soundscapes is extraordinary: they weave a fabric of sound whose instrumental threads the listener will sometimes find difficult to distinguish.
This recordings are under Creative Commons license.
Copy, share, burn, P2P, offer, thank you for that, but please keep the whole record complete with all its elements.