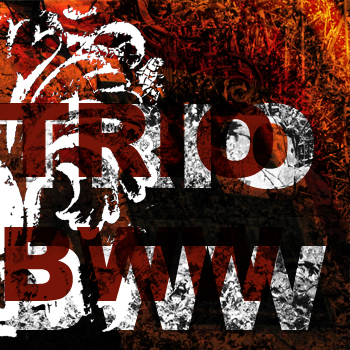 TRIO BWW
Nusch Werchowska: cadre de piano, micros
Mathieu Werchowski: violon
Heddy Boubaker: sax alto
1. Trio BWW – pt1 mp3
2. Trio BWW – pt2 mp3
3. Trio BWW – pt3 mp3
4. Trio BWW – pt4 mp3
Download the complete album in .rar (38 min 29 / 256kbps mp3+cover / 75Mo)
Recorded live, Château de Lafage, 11/03/2007 by Sébastien Cirotteau. Masterised by Heddy Boubaker.
Heddy boubaker:
After exploring a lot of musical way on guitare and as autodidacte, Heddy Boubaker, currently living near Toulouse (F), fall in love with the saxophone. And from jazz to free-jazz, he approch to the deep form of improvised music, crossing the way of musician as Lê Quan Ninh, Barre Phillips, Sébastien Cirotteau or Fabien Duscomb, develloping a sound where meet rivers, falls, wind in the trees, murmurs or crash of the city, the false silence of an old sleepy house, cracking of the wood and squealing of the gravel under the steps of phlegmatic walkers, mooings, squealings and whistles of phantasmagoric animals… all of this imaginary, imagined, unimaginable sounds who are connected freely in an unceasingly renewed poetry.
He is also organising concert in «  »La Maison Peinte » in Labarthe sur Lèze.
Nusch Werchowska:
Nusch Werchowska is, since her meeting with Barre Phillips in 1993, unconditional of the improvisation; a pianist able to restore a conversation between Debussy and Cecil Taylor. With a rare determination, it goes its way, leaving with its continuation a sober and energetic sound poetry. She is organizing « smaller festival of France underground »: the Zieu-M-Zic meetings. She plays with Mathias Pontévia, Arrington de Dyoniso, Guillaume Viltard, Arnaud Debreu, Isabelle Frémin.
Mathieu Werchowski:
Diplomed of violin to the C.N.R of Grenoble in 1989, practice this instrument principaly in improvised contexts. Play in solo or with Lionel Marchetti, Jerôme Noetinger, Ute Volker, John Russel, Anne Julie Rollet, ensemble Archipel, ensemble NODAL, Le Cube…Is intervening at the Higher School of Art of Grenoble. Compose electroacoustics pieces and for spectacle.
This recordings are under Creative Commons license.
Copy, share, burn, P2P, offer, thank you for that, but please keep the whole record complete with all its elements.